Right before Valentine's Day, my mom asked me to think of a baking project that will make use of lots of flour! Apparently, she had a little too much in the cupboard that she wanted to get rid of a big, sifted batch. 🙂 Thanks to her trusty cookie press from the 80s (yes, the copyright printed on the box was dated 1988!), I instantly found my guide — the classic Spritz Cookie* Recipe. The recipe was intended for the use of the cookie press but I was too lazy to analyze its squeeze trigger action. I ended up using old-fashioned cookie cutters! 🙂 (Check out my 3D Hello Kitty cookies!)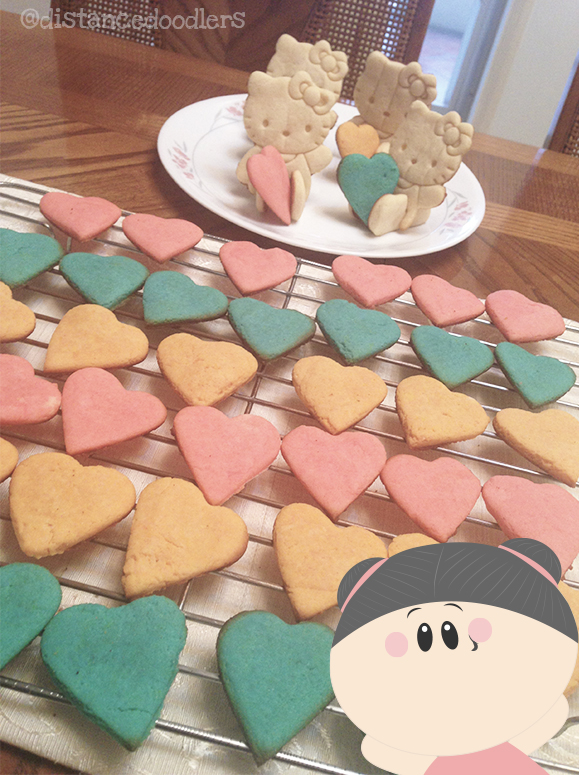 *Spritz cookies are also known as Swedish butter cookies. Based on my Google research, the German verb spritzen means squirt in English. 🙂
Here's the full recipe and photo diary:
SPRITZ COOKIE RECIPE (courtesy of  Wilton Enterprises, 1988)
1 1/2 cups butter or margarine
1 cup granulated sugar
1 egg
2 tablespoons milk
1 teaspoon vanilla
1/2 teaspoon almond extract
4 cups all-purpose flour
1 teaspoon baking powder
Procedure:
Preheat oven to 400°F.
Thoroughly cream butter and sugar.
Add egg, milk, vanilla, and almond extract; beat well.
Stir together flour and baking powder; gradually add to creamed mixture, mixing to make a smooth dough. Do not chill.
Place dough into cookie press and press cookies onto ungreased cookie sheet. (Kate: Skipped this part and made use of old-fashioned cookie cutters. Also made use of liquid food coloring.)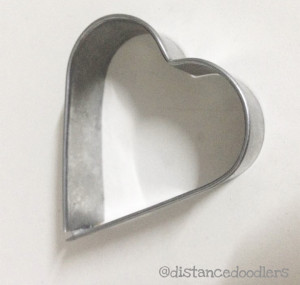 Bake at 400° 6 to 8 minutes; remove cookies from sheet; cool on rack.
Makes 6 dozen cookies.
NOTE: This recipe suggests use of candy sprinkles and colored sugar for different cookie designs. Since I didn't have those add-ons readily available, I used leftover chocolate caramel frosting (used for cupcakes) as filling in between two heart cookies. For your convenience, you may use ready-to-eat choco hazelnut spread like Nutella instead. 🙂 Check out photos of the finished products below – heart cookie sandwiches.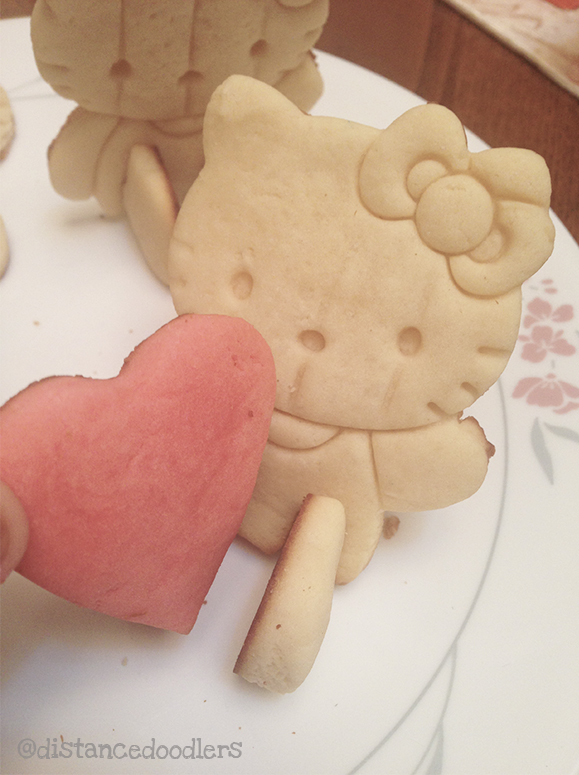 Special thanks to my college friend Greg who came over for a visit and helped me in baking these goodies. In fact, he shaped 95% of the heart cookies! 🙂