One of the topics Kate and I wanted to share for so long is Mc Donald's! Yayyy! Hahaha.
We wanted to compare the two versions of this restaurant: the Chilean and Filipino 😀 (And this is definitely NOT an excuse to go to Mc Donald's… not at all). xD
So, I will start with the McDonald's Chile: Well, the first thing I have to say is that we have lots of these restaurants along our country, and that it's also very very popular. :p So I will try to show you -more or less- the things that you can find in these restaurants' menu here.
..So first of all, we have all the burgers. Ours have lots of meat, some of them have chicken or bacon. But mostly…meat. These you can have with lettuce, pickles, cheese, ketchup, onions, avocado and bacon.
Wel also have the delicious and wonderful fries, nuggets and soda (and those sodas' light versions)
Now there's also ice cream: we have Mc Sundae (a cup of ice cream that can be vanilla or chocolate flavoured – or both). We also have Mc Flurry which is a bigger amount of ice cream, with more things to put in it: you can put cookies crumbs like Oreos, M&Ms, Morochitas (a traditional cookie in Chile), Snickers (recently.. or a only since a few years ago)-i remember I saw the snickers topping first on our honeymoon with my husband on a trip to Bora Bora and I was shocked for the amount of sugar in that Snickers Mc Flurry xD).
And on the dark side of Mc Donalds: the healthy foods…
they have orange and peach juice, fruits, and mineral water. They also have salads and wraps. (Although I've read that wraps have as many calories as some of the burgers, only that they dont have the bread part).
So I think that's it. That's all you can find in Chile in a Mc Donald's. Now it's Kate's turn!
-Caro.
Here's Kate's story on McDonald's Philippines:
Thanks to Caro for finally starting this long overdue plan of ours to compare and contrast McDonald's Chile and McDonald's Philippines. 🙂 We've always been fascinated by the fact that McDonald's in every country is representative of its people and culture. In the past, we exchanged videos of ourselves ordering or eating McDonald's stuff but we never really found the time to share stories about how the brand is in our countries. So, here's the lowdown on McDo PH.
Just like in Chile and the rest of the world, the whole line of burgers seems to be the star in the McDonald's Philippines menu.  Joining it in the spotlight is the popular set of desserts available – the sundae cones (can be plain vanilla ice cream cones or ones dipped in different flavors like chocolate or cheese a.k.a. McDip), the classic hot fudge or caramel sundae (At one point, you could order the McDo sundae duo, both chocolate and caramel syrups in generous layers placed on your sundae!), the McFlurry line (Oreo seems to be the staple topping with different limited flavors coming in from time to time), the softdrink float (soda with ice cream!), and the apple pie. On top of these, what really stands out is our chicken-and-rice meals. Sandwiches like the McGriddles, McMuffins, and Cheesy Eggdesal (with ham or sausage) are also available.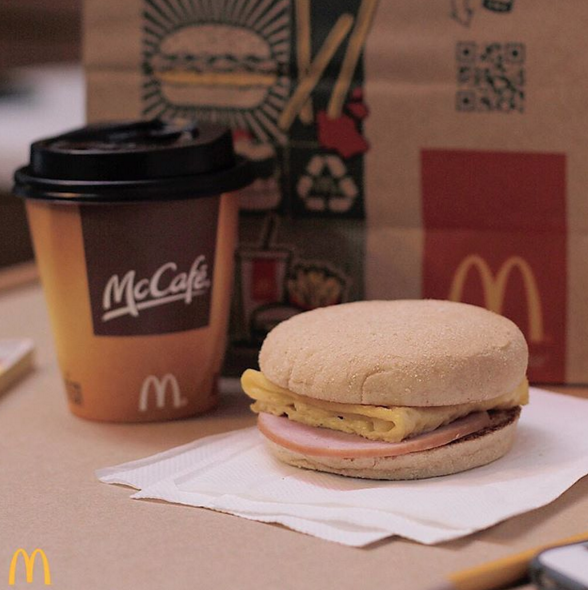 Yes, our local McDonald's is customized to fit the Asian taste. Given that Asians, Filipinos in particular, are heavy rice eaters, fried chicken-and-rice and  chicken nuggets-and-rice combinations are available. Aside from pancakes or sandwiches, set breakfast combinations include rice meals too! Fried chicken and nuggets are also paired with spaghetti (another Filipino fastfood favorite, just sweeter than the original Italian sauce) in some value meals. For drinks, Coca-Cola products including Minute Maid juice are available. McDonalds' coffee is also a popular choice — tastes great and reasonably priced. (Guess that's also the reason there are numerous McCafe branches (specialized McDonald's-branded coffee shops)  that offer a variety of coffee products, cakes and pastries. )
It is interesting to note that unlike Chile, we don't have the healthy options on the menu here. So come on over to the Philippines, Caro, and induuuulge! 😉
New product currently being offered: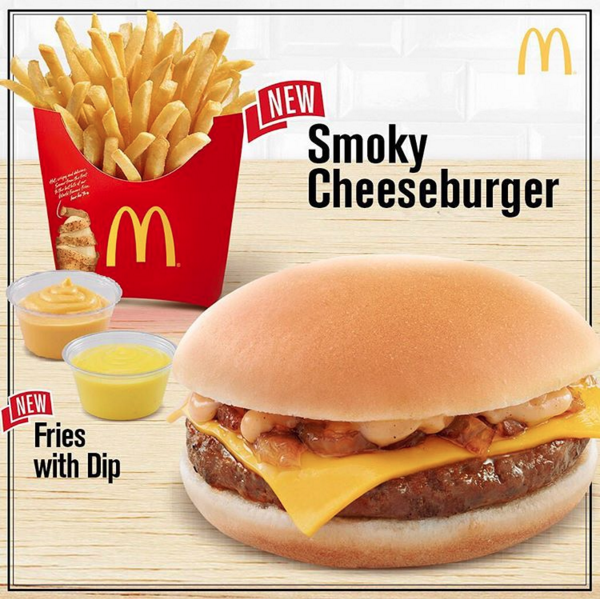 Look:
While there's a 24-hour McDonald's branch a few steps away from my house, I opted to use the delivery menu.  It's Holy Week and I'm trying my best not to indulge. 😉
Source: McDonald's Philippines' official website